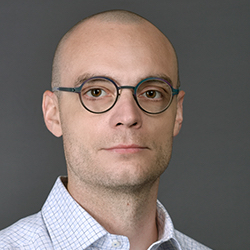 Jörg Spenkuch
Associate Professor
MEDS Department
Kellogg School of Management
Northwestern University
working papers
2021
Complexity and Choice

Salant, Y., and J. Spenkuch

[Abstract] [PDF]

We study two dimensions of complexity that may interfere with individual choice. The first one is object complexity, which corresponds to the difficulty of evaluating any given alternative in the choice set. The second dimension is composition complexity, which increases when suboptimal alternatives become more similar to optimal ones. We develop a satisficing-with-evaluation-errors theory that incorporates both dimensions and delivers sharp empirical predictions about their effect on choice behavior. We confirm these predictions in a novel data set with information on hundreds of millions of decisions in chess endgames. First, as the object complexity of an optimal (suboptimal) alternative increases, it becomes less (more) likely to be chosen. Second, even highly experienced decision-makers are more likely to make mistakes when choosing from sets with higher composition complexity. These findings help to shed some of the first light on the effect of complexity on choice behavior outside of the laboratory.

Ideology and Performance in Public Organizations

Spenkuch, J., E. Teso, and G. Xu

[Abstract] [PDF]

We combine personnel records of the United States federal bureaucracy from 1997–2019 with administrative voter registration data to study how ideological alignment between politicians and bureaucrats affects the personnel policies and performance of public organizations. We present four results. (i) Consistent with the use of the spoils system to align ideology at the highest levels of government, we document significant partisan cycles and substantial turnover among political appointees. (ii) By contrast, we find virtually no political cycles in the civil service. The lower levels of the federal government resemble a "Weberian" bureaucracy that appears to be largely protected from political interference. (iii) Democrats make up the plurality of civil servants. Overrepresentation of Democrats increases with seniority, with the difference in career progression being largely explained by positive selection on observables. (iv) Political misalignment carries a sizeable performance penalty. Exploiting presidential transitions as a source of "within-bureaucrat" variation in the political alignment of procurement officers over time, we find that contracts overseen by a misaligned officer exhibit cost overruns that are, on average, 8% higher than the mean overrun. We provide evidence that is consistent with a general "morale effect," whereby misaligned bureaucrats are less motivated. Our results thus help to shed light on the costs of ideological misalignment within public organizations.

Politics from the Bench? Ideology and Strategic Voting in the U.S. Supreme Court

Clark, T., P. Montagnes, and J. Spenkuch

[Abstract] [PDF]

In the United States, Supreme Court justices often vote along ideological lines. Why this is the case remains incompletely understood. To learn more about justices' preferences and the nature of decision-making in the Court, we differentiate between votes that were pivotal and those that were not. We find that in situations in which a justice is pivotal, her ideology is even more predictive of her vote than usual, especially when her choice matters for setting legal precedent. To interpret this previously unknown pattern in the data, we develop a model of voting in which justices have both expressive and instrumental preferences. That is, the justices strategically trade off which litigant should prevail based on the merits of a case with their desire to shape precedent.
2019
School Desegregation and Political Preferences: Long-Run Evidence from Kentucky

Kaplan, E., J. Spenkuch, and C. Tuttle

[Abstract] [PDF]

In 1974, a federal court ordered that public schools in Jefferson County, KY be desegregated. To achieve racial integration, students were assigned to a busing schedule that depended on the first letter of their last name. This led to quasi-random variation in the number of years of busing and, for the initial cohorts, whether individuals were bused at all. We exploit this variation to estimate the long-run impact of busing on political participation and preferences. Focusing on white males, we do not detect any effect on voter turnout. We do, however, find that busing significantly increases Democratic party affiliation more than forty years later. Consistent with the idea that attending a formerly black, inner-city school causes a change in the broad ideological outlook of whites, we also find that bused individuals are less likely to donate to organizations that advocate for conservative causes.

Moral Hazard and Special Interests in Congress

Kaplan, E., J. Spenkuch, and H. Yuan

[Abstract] [PDF]

We exploit the precise timing of domestic natural disasters to study the connection between public attention to politics and legislator support for special interests. Our findings show that when a disaster strikes, the news media reduce both their coverage of politics in general as well as that of individual congresspeople in particular. In addition, citizens are less likely to search for Congress-related keywords online. At the very same time, members of the U.S. House of Representatives become substantially more likely to adopt the positions of special-interest donors as they vote on bills. Taken together, the evidence we present suggests that politicians are more inclined to take actions that benefit special interests when the public is distracted. More broadly, our findings imply that contemporaneous attention improves electoral accountability, even in an environment with stringent transparency and disclosure requirements.

Measuring Geographic Polarization: Theory and Long-Run Evidence

Kaplan, E., J. Spenkuch, and R. Sullivan

[Abstract] [PDF]

We document the evolution of geographic partisan polarization in the American electorate. Our analysis begins by proposing seven theoretical properties that are intuitively desirable for a summary measure of voter polarization. We then formally prove that a variance-like index is the only measure that satisfies all desiderata. Using this index, we provide evidence that spatial cleavages have increased dramatically since the mid-twentieth century—consistent with the Big Sort hypothesis. At no point since the Civil War have partisans been as clustered within the boundaries of individual states as today. Nonetheless, even when geographic polarization is measured at the precinct level, differences across communities tend to be significantly smaller than differences within. In this sense, the American electorate continues to be more diverse within than across areas.